Solar Panels UK
Solar Panels in the UK
In the UK, over the past 10 years UK grid-connect solar panel systems have grown from being an obscure, expensive technology that only well-to-do tech-heads and eco enthusiasts invested in, into a mainstream technology that everyone has heard of and hundreds of thousands of people have on their homes and offices.
There have been two big factors that have created this huge growth in the solar panel industry in the UK:
The UK Governments Feed-in tariff scheme - rewarding people for installing solar panel systems
The significant decrease in solar panel costs - reducing the upfront costs and risks to potential buyers
Bacause of these factors, installing solar panels in the UK has become affordable to many home and business owners and are a great financial investment, returing a much better ROI than can be acheived through bank accounts.
The Solar Resource in the United Kingdom
How much solar energy is there available in the UK?
Over the past 10 years I have lost count of the number of people who have said to me "There is no point installing solar panels in the UK, the sun does not shine enough". (I might add that these people were not experts in solar energy!) The sun may not shine all the time but solar panels do not need direct sunlight to make them work, they work in any weather, every day of the year. One of the great things about solar energy, especially if you compare it with another renewable technology, wind, is that it is really easy to estimate accuratly how much energy you are likley to generate every year. All you need to know is where in the UK the solar panels are installed; what directions the solar panels are facing (south, south-east etc), what is the angle of the panels from the horizontal and if there are any shading issues. With that info you can work out pretty accuratly how many kWh of electrical energy the solar panels will generate each year.

Admittedly a solar panel system installed in the UK will not generate as much solar energy as a solar panel system installed in Spain or Italy, but it will still generate a significant and (importantly) a predictable amount of solar energy every day, all year.

For more information on this take a look at our article on working out the annual energy output from a solar pv system.

How many solar panels are installed in the UK?
According to the most recent UK Governments statistics on solar panel deployment in the UK:
"Provisionally, as of the end of September 2016, overall UK solar PV capacity stood at 11,152 MW across 891,409 installations."
In order to work out how many solar panels are installed in the UK I am going to have to make an assumption about the average solar panel size. I am going to take a guess, and I should not be too far off, that the average solar panel size used in the UK is around 250 Wp.
Lets assume the provisional Government figure for the end of September 2016 is about right. So we have 11,152 MWp of solar installed in the UK.
1MWp = 1000,000 Wp so we have 11,152,000,000 Wp of solar installed. Assuming the average solar panel installed is 250 Wp then:
The number of solar panels installed in the UK as of autumn 2016 is approximately 44,406,000 panels.
So, according to our (somewhat crude) calculations there are around 44.4 million solar panels installed in the UK.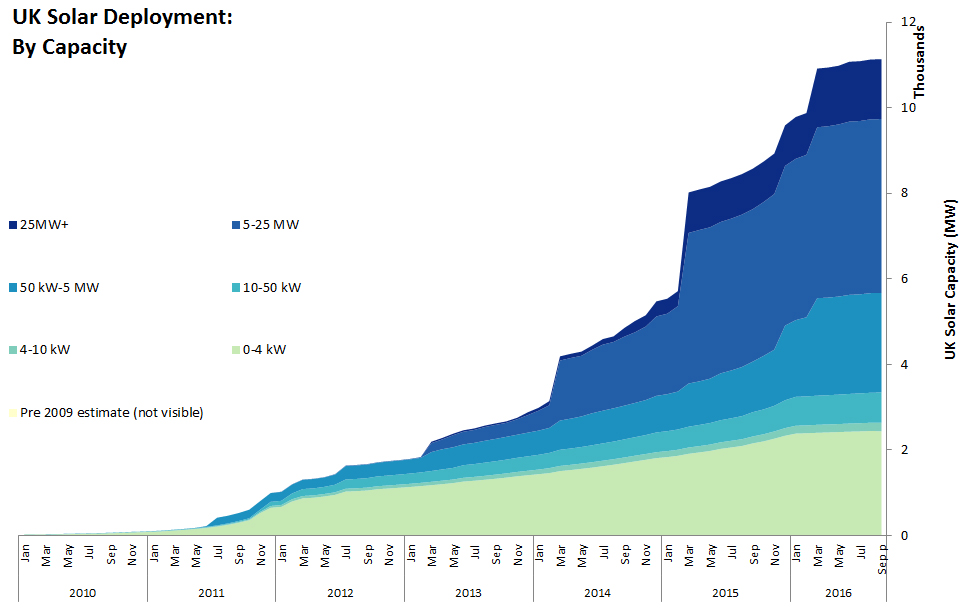 Solar panel manufacturers in the UK
There are a number of UK based manufacturers of solar panels. Most UK based firms tend to be manufacturing more bespoke, high end products for more custom projects. Oftern the manufacture of the actual photovoltaic cells themselves will be done overseas by other manufacturing firms that specialise in cell manufacture and then imported into the UK where the solar panels are assembled by the UK based company.
GB-Sol - Based in South Wales, GB-Sol manufacture solar pv modules for a wide range of applications including off-grid systems, BIPV and for standard domestic and commercial solar installations. GB Sol have been involved in the UK solar panel industry for over 20 years were rated the top solar supplier in the Ethical Consumer magazine.
Viridian Solar - Based in Cambridgeshire Viridian Solar manufacture attractive solar thermal and solar photovoltaic panels designed to be installed in-roof.
Romag - An bespoke glass specialist that has been manufacturing in the North East of England since 1943. They have been supplying solar pv products since 1999 and specialise in building-integrated PV (BIPV) as well as their own solar tile called Inteco.
Solarcentury - Based in London Solarcentury manufacture their own solar tiles called C21e and an BIPV product called SunStation both designed to be used instead of traditional style solar panels.
Polysolar - Polysolar have developed their own semi-transparent photovoltaic glass that can be used as part of a buildings building fabric. Typical applications include building facades, canopies, and cladding. Polysolar is based in Cambridge and was established in 2007.
SunSolar Energy - Formed in 2011 and based in the West Midlands, SunSolar Energy is "part of an international group of manufacturing and distribution companies headquartered in the UK with operations in Asia and North Africa". (Quote taken from their website).
AES Solar - A solar thermal manufacturer located in Moray, Scotland, AES Solar were established in 1979 and are one of the longest running solar thermal manufacturer in Western Europe.
Solion - Not a solar panel manufacturer but they do manufacture a popular low ballast, flat roof mounting system.
Solar panel installers in the UK
According to the Microgeneration Certification website there are 1,742 MCS approved solar photovoltaic installers in the UK as of December 2016. The number of solar pv installers has been dropping pretty steadily since 2012 when there were over 4,000 MCS approved installers in the UK. All solar pv installers should be MCS approved - if they are not the systems they install cannot be officially registered and the system would not be eligible for any feed-in tariff income.